Missing my deadlines really bugs me, as I am usually really prompt and often early!
So when Sana put in her request in December for our

But, when it comes to original ideas and designs, I fall by the wayside!
Big time!
So, here it is, the middle of February, and I'm just getting it done.
Sana
asked for something that reminds us of home......
so, here it is Sana!
The beaver is our national rodent animal!
Now, I have to get busy on Tina's and Fiona's blocks!
**********
WIP -No Name Triangle quilt
Well, this darn thing has been a thorn in my side ever since I started it!
I do love Chicopee, but the triangles...not so much!
I've discovered (not to my surprise) that random placement just makes me nuts!
I kinda just threw these darn triangles together to get them off my design wall......
I'm really not loving it, so when it came time to decide on quilting, I was kinda blah about it.
Finally, I decided on a circle using the red Aurifil 28wt I had waiting around to be used. Love the thread!!!
I wanted to try using the round FMQ foot that came with my machine, but I had never used.
Well, lets just say....it ain't pretty!
I can't follow a circle, and to call it "organic" is an insult to the word!
but...I've started...and, as much as I really want to pick it all out and start over........
I won't!!!
No one will see it way back in the closet!!
and I don't like enough to start over either!
this is the back.......only a few triangles and the rest is Kona coal.
oh goody...you can really see the wonkiness from the back!!
let's just move on, shall we....
********
WIP Bella's Curves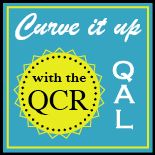 one of the most fun things ever!
this fan block is the latest.....
and here is what I have done so far....
My fabrics are Bella by Lotta Jansdotter.
Each block is 16" and we will be doing 12 blocks.
********
I still need to get busy and quilt Starry, Starry Night and that will finish up my WIP's from last year. Yay!
Have a great sewing week!